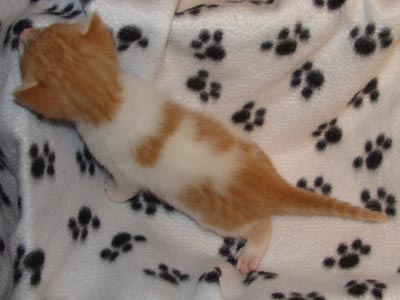 Rescued August 4, 2011.
---
Brevard Animal Services & Enforcement (BASE) was called to get this vermin out from under the shed of someone we can assume isn't a cat lover. I happened to be standing at the counter at SACC, pulling three other cats for rescue, when the officer turned in this kitten an hour before closing. We estimated he was about three weeks old based on weight, eyes open, no teeth showing, and not quite walking yet. He was too young to eat on his own, so BASE policy requires he be killed within two hours. As you can see, I pulled him too.

I hand fed him kitten formula from a syringe until he was able to feed himself from a saucer.


August 4, 2011.
---
By the time he was adopted, this kitten was neutered, vaccinated, free of parasites, litter box trained, and had a micro-chip.

---
For more info contact: Leon, (321)784-8406, <SailinCat@SailinCat.com>